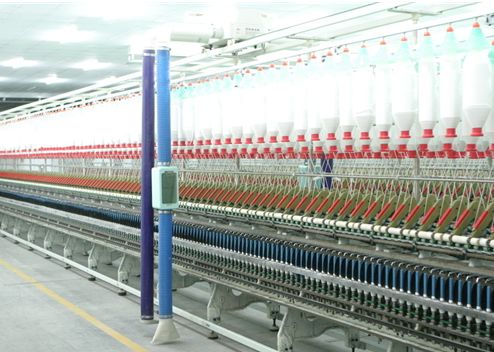 Last month, the Economic Commission for Europe and Asia announced the initiation of safeguards investigations on chemical fiber cloth imported into the Customs Union in the customs territory. There are 34 companies in Fujian Province involved in the case. The reporter learned yesterday from the Provincial Department of Foreign Trade and Economic Cooperation that this year the textile industry in Fujian Province has experienced increasingly frequent trade investigations from emerging markets, including Egypt, Peru, Brazil, and Mexico. Industry analysts have analyzed that since last year, due to the decline in purchasing power of developed economies in Europe and the United States, Fujian enterprises have fought in emerging economies. However, these emerging countries believe that their domestic industries, especially textile-clothing and other labor-intensive products, have been significantly impacted. Domestic industries, these countries have adopted trade surveys to block China's textile exports.
The reporter learned that under the new situation, textile enterprises in Fujian Province are also looking for new outlets. Some of them have begun to move factories to emerging markets in order to reduce trade frictions and take advantage of lower production costs in some countries. Some enterprises in Fujian Province began to transform and turn the crisis into opportunities.
Phenomenon: Frequent trade surveys from emerging markets
The reporter learned that last month the Russian-Belarusian-Kazakhstan three-nation Eurasian Economic Committee (abbreviated as Russian White Harbin) announced the initiation of a safeguard investigation on the chemical fiber cloths imported into the Customs Union's unified customs territory. There are 34 companies involved in the Fujian Province, including There are 8 companies above a million US dollars. In 2011, the total export value of Russia, Belarus, and Kazakhstan to Fujian Province was 36.44 million U.S. dollars, an increase of 29.86% year-on-year, accounting for 6.51% of the country's total export volume (560 million U.S. dollars).
This is not a case. The reporter learned that the textile industry in Fujian Province has faced more and more trade investigations from emerging markets this year. In June of this year, the Peruvian government formally launched anti-dumping investigations on some Chinese-made clothing and accessories products. The total amount involved in the country is 243 million U.S. dollars. The amount of money involved in Fujian Province accounts for about 10% of the country's total. The companies involved are mainly concentrated in Fuzhou, Xiamen and Quanzhou, among which there are two companies with more than one million US dollars and six companies with more than 500,000 US dollars.
In July this year, the Foreign Trade Secretariat of the Ministry of Development, Industry, and Foreign Trade of Brazil issued an announcement deciding to initiate anti-dumping investigations on nylon yarn imported from China, South Korea, etc., and Changle City creator Nylon Industrial Co., Ltd. of Fujian Province is one of the four mandatory responding companies in the country. Last year, the products involved in the export of Brazil reached US$ 3.09 million and ranked first in the country in terms of export value.
According to the monitoring of the Provincial Foreign Trade and Economic Cooperation Department, one of the main features of the international trade friction situation in Fujian this year is the continuous strengthening of trade protection in Latin America, and the number of cases initiated by developing countries has increased significantly. Among the cases initiated by Latin American countries in China in the first half of the year, Fujian The province involved 5 cases and the amount involved was as high as USD 32.42 million, which was more than 3 times of the whole year. Among the 22 cases that were encountered in Fujian in the first half of the year, 11 were initiated by developing countries, with India and Brazil adopting protectionist attitudes. The textile industry is also one of the industries in Fujian Province that suffer from trade frictions. This year, textile and apparel products in Fujian Province have successively encountered investigations in emerging market countries and regions such as Egypt, Peru, Brazil, Mexico, and Russia, Belarus and Kazakhstan.
Cause: Concentrated shift to emerging markets was blamed on local industries
Textile and apparel is one of the most traditional export products in Fujian Province. The total textile economy in Fujian Province ranks fifth in the country, and the output of main products of textile enterprises above the designated size ranked third in the country, yarn, printing and dyeing cloth, non-woven fabrics, and clothing. The output and textile and garment export rank fifth in the country. "The EU, ASEAN, and the United States are the major export markets for textiles and clothing in Fujian, but last year's weak demand from Europe and the United States led to a decline in exports." Some textile companies in Fujian said that this year, Fujian's textile enterprises' export orders have generally declined by more than 20%. European orders fell by more than 30%. Orders in the new season are also more troublesome. Large orders are worrying about being trapped in the current situation where the European debt crisis is still continuing to ferment. Like orders from the previous quarter, there were European customers who cheated or simply "evaporated".
Data show that in the first half of the year, China's textiles and clothing exports to the EU totaled 21.31 billion U.S. dollars, a decrease of 12.2%. The double-digit decline in exports to the EU was even worse than in 2009.
For example, in Peru, last year, the export of textile products from Fujian Province reached 24.02 million US dollars, an increase of 157.83%. In the first three quarters of this year, the total amount of textile products exported from Russia, Belarus, and the three countries under the tax item number involved was approximately US$33.99 million, an increase of 53.02% year-on-year. There is also a 35% increase in exports to BRICS countries such as Russia, Brazil and India.
However, the problem has followed. China's textile exports to emerging markets have been accused of causing significant impact on the local textile industry in emerging markets.
According to relevant persons from the Department of Foreign Trade and Economic Cooperation of Fujian Province, representatives of relevant industries in these countries have asked their governments to increase their protection of domestic industries and to exclude Chinese manufacturing. The call for trade remedy measures for related products is also growing.
Impact: The development of many textile companies or "somewhat worse"
According to customs statistics, from January to August this year, China exported 16.9 billion US dollars of textile and clothing, which was 0.7% lower than the same period of last year. However, Fujian's textile exports have risen in a contrarian direction, with exports at US$12.02 billion and an increase of 10.6% against the trend. However, at present, the export of some textile products from Fujian Province has also shown a downward trend. For example, in July, the textile exports of Fujian Province were only US$373 million, a year-on-year decrease of 7.47%, and garment exports were US$1.29 billion, a year-on-year decrease of 1.33%.
According to related persons from Fuzhou Garment Association, although China's cotton price has dropped from the highest value of more than 30,000 yuan per ton to less than 20,000 yuan, it is still several thousand dollars higher than the international rate. This is no doubt that the international competitiveness of enterprises is not small. The impact, as well as other production costs, is also rising. Like labor costs, workers' wages have been increasing by 15% to 20% each year in recent years. The monthly wage of textile workers has risen from 700 to 800 yuan in 2001 to an average of 3,000 yuan today.
In addition, the appreciation of *** is also a major factor affecting the development of export companies. According to the analysis of the Fujian Textile Industry Association, foreign dependence on textiles and garments is extremely high and it is also extremely sensitive to changes in the exchange rate. *** Appreciation by 1 percentage point, the industry's net profit will drop by 1 percentage point, while the current industry's average net profit is only 3% to 5%.
According to industry insiders, under the environment of sustained economic downturns and weak international market demand in developed economies such as Europe and the United States, the further development and development of emerging markets is extremely important for Fujian's foreign trade to achieve "stabilizing the market and ensuring growth". However, emerging markets, which are now the new export growth point, are also hampered, and the development of many textile companies in Fujian Province will be "somewhat worse". Way out: Some companies start building factories in emerging markets
The reporter learned that some textile enterprises in Fujian Province have begun to use foreign peripheral plants to transfer orders to Vietnam, Cambodia, India, and other overseas production. While reducing trade frictions, they also take advantage of the relatively low production cost of emerging markets.
Fujian Fengda Textile & Garments Company opened a garment factory in Cambodia last year. It now has more than 800 workers and is preparing to set up another factory. By then, there will be 10 million USD orders for production in Cambodia. The company believes that Cambodia and Bangladesh belongs to the list of the least developed countries listed by the United Nations. Its textile exports to the European Union, Japan, and Canada can be exempted from tariffs.
Another Quan Quan textile company has set up a factory in Vietnam and currently has 400,000 spindles and 4,000 employees. Last year, the Group's sales revenue was RMB 6.8 billion, and Vietnam's production capacity accounted for 40%. Since the beginning of this year, the company has used the preferential policies of the free trade zone of ASEAN and the trade policy differences between Vietnam and China to drive full production at full capacity. Its cotton imports are all duty-free, and each ton of cotton is 5,000 yuan cheaper than domestic ones. This is a rough calculation. The first half of the profit reached several hundred million yuan.
Fuzhou City Clothing Association, said relevant persons, this year's relevant departments in Fuzhou led some companies to visit emerging markets, Changle some companies intend to set up factories in emerging markets after the inspection.
According to the analysis of the Fujian Province Textile and Apparel Export Base Chamber of Commerce, Fujian's textile and apparel companies chose countries that invest overseas to set up factories mainly in Vietnam, Indonesia, the Philippines, Malaysia, Myanmar, and Cambodia. The most important factor is to consider the factors of labor costs and avoid trade frictions. Of course, there is also the need to allocate international resources and find business opportunities to open up the market. "Apart from the external peripheral factory, some enterprises in Fujian province also took the opportunity to turn the crisis into a machine." Analysis of the Fujian Province Textile and Apparel Exporting Base Chamber of Commerce, for example, a textile company added 100 million yuan in new investment this year, and added 200 new European models. Jet loom. Due to the economic downturn of the European Union and the depreciation of the Euro, the loom has fallen by about 10% from the previous year, and 70 million yuan in equipment can save millions of dollars. The company developed new products through advanced equipment and caused its products to slump in the first half of the year. Still able to keep selling.
"Moving" is not a long-term solution
In the face of increasing international trade frictions and increasing production costs, many domestic labor-intensive companies, including Japanese companies, have moved their production workshops to other developing countries or to relatively backward countries. From the current situation, this It plays a role in the survival and development of the company, but in the long run, this "moving" approach is not a long-term strategy for the development of the company.
Fuzhou Garment Association experts told reporters that the current reason why textile companies frequently encounter trade investigations, the most fundamental reason is that the products produced by enterprises are of too low grade, and they can only win with the price advantage in the international market. However, by relying on price advantage to win, the company will be trapped in a passive situation. On the one hand, it will cause trade frictions to occur continuously; on the other hand, once the production cost increases, the company will have no profit and will not be able to survive.
For many companies today, "moving" can really ease these two embarrassing situations. However, it is worth noting that if companies "move" in order to continue to enjoy low costs in order to maintain their production of low-level products, then I am afraid that The two kinds of embarrassing situations will eventually catch up and fail to achieve "one move."
One of the facts that cannot be ignored is that the labor costs in non-developed countries have also been rising in recent years. The analysis of the Fujian Province Textile and Apparel Exporters' Association shows that the labor wages in Vietnam and Indonesia have risen greatly in recent years, of which Vietnam has artificially The monthly price of 40 US dollars rose to more than 200 US dollars this year, and like China, with the improvement of people's living standards, the labor cost of these countries also has room to continue to rise. In addition, in recent years, international trade protectionism has continued to heat up, and many developing countries have also been involved. Therefore, if companies continue to produce low-level products abroad, they may ultimately be difficult to avoid.
However, in a sense, "moving" has also won more time for the transformation and development of the enterprise. If the enterprise can adopt technological transformation and technological innovation, adjust the structure and industrial upgrading, and increase the added value and brand value of the products, Cultural value, taking the high-end industrialization route, then it is not "moving" but also able to calmly respond to the ever-changing situation.
Floral Twill Fabric,Rayon Foil Fabrics,Rayon Single Jersey Fabrics,Rayon Twill Print Fabrics
Shaoxing Ruby Textile Co., Ltd , https://www.sxrubytex.com