Speaking of free bird clothing, almost nobody in Guangzhou knows. It is from Panyu domestic famous brand. Its stores throughout the country, alone in Guangzhou, Huangpu Road, Zhongshan Road, Zhongshan Road, Kang Wang Road, Flower Boulevard, Guangzhou Avenue, Jiangnan Avenue, Summer Road, Tianhe Hongcheng Square, Beijing Road, forward road, martyrs Road, up and down nine road, Tianhe Road, Luoxi Metro, Panyu Dashi, Panyu Shiqiao can see the style of free birds.
But when talking about Liu Ruihui, the founder of Freebird, there are few people who know him. Because he was very unhappy students Zhang Yang, so in his 26 years of garment industry history, for his personal publicity, almost no one. Management work with him, the evaluation of his actions are: clean, neat, clear. Evaluation of his dress is: simple, restrained, taste. Friends of his evaluation is: love home, love Chinese culture.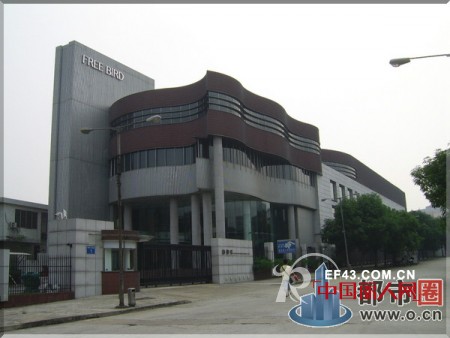 Something must be done
"Some things do not do what you want to do, you do not want to do, but must do.For example: When a piece of jeans the same raw material, the same process, the same product, Apple logo affixed, the price is seventy or eighty US dollars; Apple logo is not posted, the price is forty or fifty yuan.
In 1984, Liu Ruihui set up a garment factory by itself. According to the policies of the time, engaging in foreign trade or planned economic mode, the manufacturing enterprises did not have the right of import and export. They all made special offers to Guangdong Textile Import and Export Corporation and Guangzhou Textile Import and Export Company The export-oriented state-owned company Nathan did because only state-owned trading companies such as Provincial Textile and Textile City had the import and export quotas for garments. Processing plants can only do processing to Hong Kong enterprises. Do the United States, Hong Kong's OEM products, such as Apple jeans.
His garment factory is linked to the township enterprises in Dagang, doing is also processing. Once, he traveled with the provincial delegation to study abroad, changing his idea of ​​starting a business. He saw the US market selling an apple-brand jeans for seventy to eighty US dollars (equivalent to 600-700 yuan at the time). The same raw materials, the same process, the same finished product, there is no Apple logo affixed to the logo, in the country can only sell 45 yuan. He asked himself, these products are from China, from their fellow hands, and what did we get? A little processing fee! Why not do your own brand? Why should always make their own products because there is no brand and become food stalls, spread the goods, lose its due value and benefits?
In 1995, Liu Ruihui's own brand - free bird casual clothing came into being, free bird store was born, the first generation of renovated image available; the same year the construction of free bird building, free bird invited to Europe, South Korea, Hong Kong and other extremely sensitive The trend of tactile and rich experience in the production of designers to establish their leading position in casual wear. The Rui Hing garment factory owned by Liu Ruihui, Huida Fashion Co., Ltd., Freebird Garments Co., Ltd. and Hong Kong Tiangong International Group and other subsidiaries, enough to support the development of the scale of free birds, so that the Free Bird brand traveled the country.
At this point, Hong Kong's apparel brands, such as Liu Ruihui, are expected to enter the domestic market in succession and by virtue of their strong financing capability in the securities market, they have entered major shopping centers and specialty stores in large and medium-sized cities nationwide in just a few years. At the same time, the domestic brands are also beginning to emerge constantly. The apparel market has shifted from a sole operation to a chain-scale sales. The competition among brands has also been expanded from quality competition and price competition to service competition, scale competition, image competition and strength competition A series of competitive categories.
Free birds began to fly in such a competition.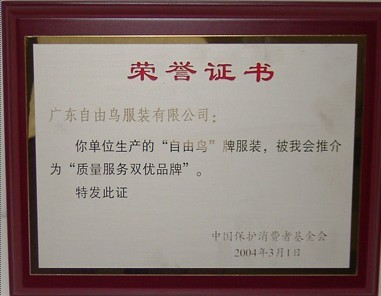 In the next few years, Freebird not only secured a place in the apparel brand market, it was appraised as a famous trademark in Guangzhou in 2001, a famous trademark in Guangdong Province in 2003, and top ten in Guangzhou in 2002, 2004 and 2010 Brand apparel; 2004 was also rated as quality, service Shuangyou brand and the top 100 garment enterprises in Guangdong, Guangdong garment advantage enterprises in 2005 by the state Mianjian products business; 2010 clothing brand innovation enterprises. 2006 and 2013 continue to recognize Guangdong famous brand;
At the same time, the community also gave free bird founder Liu Ruihui fully affirmed its appointment of more social roles: Panyu District CPPCC members, District Federation of Industry Executive Committee, District Chamber of Commerce vice chairman, District Dagang Chamber of Commerce vice president, District Garment Association President, District Federation of business vice president, outstanding Chinese-built socialist builders.

Some roads must go
For example, to register a trademark, you did not expect a protracted war to fight for three years, plus a huge investment of more than 4 million yuan. If you do not want to go, But it happened. "
That is 1990. Because Liu Ruihui's clothes are so cool and well done, the products are sold very hot and have set a very good reputation among consumers. At that time, no one in Panyu can surpass them. Liu Ruihui decided to put their own clothing into the big department store in Guangzhou. At that time, Guangzhou's new Daxin, Guangzhou Department Store, the South Building, are all well-known department stores. However, those who stationed in the mall, you need a business license, tax registration, the product must also have a registered trademark.
This is an unexpected hardship. Dagang Industrial and Commercial Office came to Panyu, Business did not take over this business, do not know how to do. Came to the county-level business sector, where no one contacted the trademark registration such a thing, powerless. Then went to the city business sector, and finally some people know that there is this business, but they only have theoretical knowledge of the trademark, there is no registered trademark of the hands-on experience. Finally ran to the provincial business sector, this was the whole process of trademark registration: cover a chapter, issued to a trademark registration admissibility. So something, then ran four business sector, spent a full three months time. Then holding a trademark registration admissibility to apply for a trademark in Beijing. But in the end, the mark was preemptively registered. And then started the second round of trademark registration, but the second application for registration of the trademark has been registered. Come back and forth, waiting for a full three years, spent more than 400 million, and finally finally settled.
Read thousands of books, but also miles.
Since 2007, the entire casual clothing profit continued to decline, and sometimes even only a few percent. National leisure brand prices go up. However, in recent years, Freebird has been focusing on the transformation and upgrading. To assess the situation, turn our attention to the urban white-collar elite, began to design their own fashion, to create their own fashion, in order to respond quickly to market requirements, so that free birds quickly become the leading fashion brand in China.
Ladies Parka Coats,Fur Coat Parka,Women Fashion Suit,Fashion Suit
DALIAN GACCILANG FASHION CO.,LTD. , https://www.cashmerecoatlong.com